Noi Italiani D`Oggi (NIDO), Poughkeepsie, NY
Who Are We?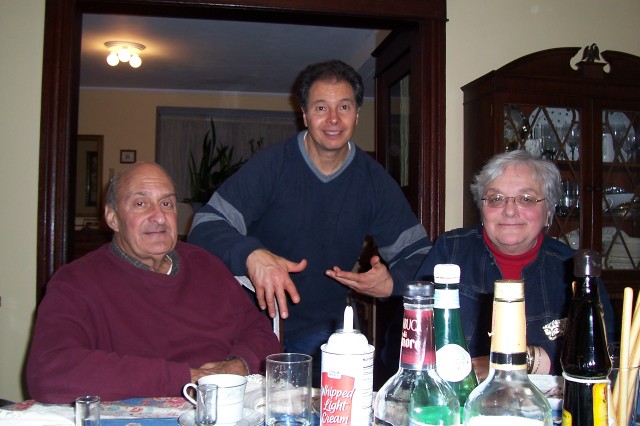 Everyone of us is keenly interested in promoting and enjoying the rich Italian Culture and Language. Everyone of us is interested in enjoying the social camaraderie of each other in doing such. That is all that really counts and we are all important people in our own lives and in this group. However herein we illustrate with a few examples the achievements of some of our members:
---
Nivessa Rovedo-Cappelli
Author of several books, teacher, lecturer, and wife and partner of our John Cappelli, famous journalist (see below). Her books are fun for all ages (one of her latest here) . To illustrate her honors we turn to 2004 at the LA FAMEE FURLANE FESTEGGIA DI NEW YORK when she was so honored:
"La commemorazione del 75° anniversario della fondazione della Famee Furlane di New York si svolgerà il weekend del "Columbus Day", dal 9 all'11 ottobre [2004] presso la sede dell'associazione, a College Point, Queens. L'Hotel La Guardia Marriot,situato a East Elmhurst,Queens,dove avrà luogo il "gala"di sabato sera, mette a disposizione delle stanze a prezzo favorevole per coloro che fossero interessati a venire da lontano per partecipare alle festività.........Il calendario delle manifestazioni inizia venerdì sera, 8 ottobre, con la "Cena di Benvenuto" alla sede della Famee. Continua sabato mattina, 9 ottobre, con la "Cerimonia di Commemorazione",l'inaugurazione del mosaico,"Il Fogolar", dono di Costante Crovatto, mosaicista della Scuola di Spilimbergo, residente a New York, e la presentazione del libro di Michele Bernardon "I Terrazzieri Friulani di New York", uno studio compilato appositamente per l'occasione. Dopo il pranzo, si svolgerà un incontro con la scrittrice Nivessa Rovedo-Cappelli, autrice dell'autobiografia "Manhattan Immigrant Girl". Il libro racconta l'esperienza di una giovane friulana, emigrata a New York negli anni Trenta e ricorda la vita del "Piccolo Friuli" di una volta. Nel tardo pomeriggio, si rientra in albergo....."
---
John Cappelli
Many Contributions to Journalism and a Proud Activist for Human Rights and Justice. One can read his work often in the wonderful Italo-americano paper,
. Here is an example of how he is honored throughout the world:
IL MESSAGGERO - New York - John Cappelli receives journalism award / Il giornalista è stato premiato dall'Aiae, by Dom Serafini

The Association of Italian American Educators (Aiae) gave the Award Educator of the year to John Cappelli for "his contribution to Italian-American journalism". John (Giovanni) Cappelli was born in Union City, New Jersey in 1927: father Giuseppe and mother Savina Servilio were original from Marruci, in the municipality of Pizzoli. John grew up in Italy, in Rome, where he moved at the age of five with his father when his mother passed away; they came to the USA and settled in the Bronx, New York, soon after the second world war.

La Association of Italian American Educators (Aiae) ha conferito l'Award Educator dell'anno a John Cappelli per «il suo contributo al giornalismo italoamericano». John (Giovanni) Cappelli è nato a Union City, New Jersey nel 1927: il padre Giuseppe e la madre Savina Servilio erano originari di Marruci, comune di Pizzoli. John crebbe in Italia, a Roma, dove si trasferí con il padre quando la madre morì, a cinque anni; tornarono negli Usa e si stabilirono nel Bronx, New York, alla fine della Seconda Guerra Mondiale.
---
Gaetano V. Cavallaro, MD
After years of researching archives in Vienna, Rome, London and Paris has written an epic classic work of three volumes depicting events on the Austro-Italian Front in the First World War. The volumes will be coming out late in 2005 describing political, diplomatic, social and military events. This is the best work in any language concerning events there. Switching careers he has lectured in history in major American universities and museums as well as in London and Rome. He is recognized as a world-famous authority on the First World War on the Italian Front.

---
Giulio Di Giacomo
Accomplished scientist with many scientific publications and honors, is true "Renaissance Man." He has also published a truly inspiring non-fiction book entitled "SURVIVAL, WWII and the Aftermath North of Cassino through the Eyes of a Ten- Year-Old, and His Immigration to the United States." The book recounts with details and realism the suffering of an entire village population north of Cassino during the frigid months of 1943-1944, forced by the Germans to evacuate with their children and aging parents, without much food and clothing, likely to die by a bullet, starvation, or freezing in a mountainside. It is a true story of tragic events afflicting innocent people, living in caves and huts pervious to rain and hardly protective against the bitter winter, and also a historical and human account that reveals the true nature and instinct of people while risking their lives for survival every day. It exposes the unsung courage and tragedy of civilians in a ravaging war as lived by a ten-year-old for nine months.
---
Giuseppe Finelli (Deceased)
World Famous Sculptor, Artist, Author, Generous Friend to Us All. Please see Finelli_Honorarium to let his home town in Italy say it for us
.
---
Gina Peluse
One of the most talented, pleasant and beautiful women one could meet. Her life was not easy, but her spirit and elegant drive was always superb. She has published several books and is a world renown master of the simple (but difficult to do) elegance of oriental painting. Again we let Italy provide our statements of esteem for her with an excerpt from Mayor of Massarosa's speech (July 2003) praising Gina, an accomplished artist and author:.
COMUNE DI MASSAROSA, PROVINCIA DI LUCCA:
COSA DIRE DI QUESTA ELEGANTE SIGNORA, DI CUI HO LETTO LA BIOGRAFIA: CHE E' UNA DONNA ECCEZIONALE CON UN VISSUTO DRAMMATICO ALLE SPALLE COSI' COME E' ACCADUTO A MOLTI ALTRI EMIGRANTI ITALIAN GINA HA CONOSCIUTO LE DIFFICOLTA' DELLA VITA, DIFFICOLTA' CHE HA SUPERATO IMPEGNANDOSI DURAMENTE NELLO STUDIO E NEL LAVORO, FINO A CREARSI UNA CONDIZIONE CHE LE HA CONSENTITO DI ASSICURARE AGIATEZZA ED UNO SPLENDIDO AVVENIRE PER I SUOI DUE FIGLI MARIA LUISA E JOE, QUEST'ULTIMO OGGI UN ECCELLENTE COMPOSITORE ED ORGANISTA. COMPLIMENTI A GINA PER IL SUO GENIO ARTISTICO E PER LA PADRONANZA DELLA TECNICA DELL'ACQUARELLO CINESE: UN CONNUBIO CHE LE PERMETTE DI CREARE OPERE DI GRANDE ELEGANZA E RAFFINATEZZA. MA SOPRATTUTTO GINA VOGLIAMO ESPIMERTI OLTRE A OPERE TUTTO IL NOSTRO AFFETTO ANCHE IL NOSTRO ORGOGLIO, IN QUANTO COME ITALIANA HA VALENTEMENTE RAPPRESENTATO E RESO ONORE AL NOSTRO PAESE ANCHE OLTRE MARE. GRAZIE ANCORA PER AVERCI ONORATO DELLA TUA PRESENZA E ADESSO A TE LA PAROLA E LO SPAZIO PER MOSTRARCI CON L'ELENGANZA E LA SEMPLICITA' DELLA TUA ESPRESSIONE ARTISTICA IL MODO IN CUI LE NASCONO LE TUE MERAVIGLIOSE IL SINDACO (MAYOR) (Fabrizio Larini)